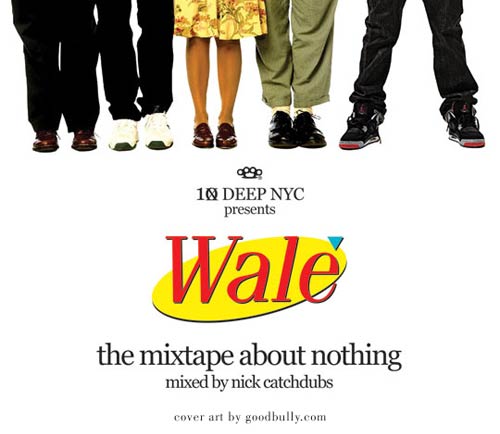 Lil Waynes
Tha Carter III är förvisso i all sin spretiga prakt en stundtals genialisk platta. Ja, även om man redan hört mer än 70% av de coolaste låtarna tack vare bloggläck. Den bästa "let the beat build" hade i och för sig varit nog. Men ändå är det så skönt, alltså när man är lite, lite besviken, att Washington-geniet
Wale
släpper sitt
mixtape about nothing
och att det typ är... helt fantastiskt. Det är samtidsanalyserande hiphop med ett äckligt bra flow, en 70-talsfunkig produktion på en fond av den putslusiga sit-comen
Seinfeld
. Wale samplar Michael Richards "nigger"-utbrott från förra året i början en låt och avslutar med densammes ursäkt med pålagda burkskratt. I övrigt samplar han friskt från olika avsnitt (bla favoriten The Switch) och det låter ju förstås helt sjukt. Men det funkar. Mycket bättre än det mesta tillgängligt faktiskt, Vilket Wale för övrigt poängterar genom att dissa ringtonerappare och låter lines som
"a lot of rappers sound like a lot of rappers"
upprepas ofta.
Det är
intelligent
, men på ett icke-äckligt commonpatos-tyngt eller Eminemtramsigt sätt. Och det är liksom inte heller så där distanslöst självskrävlande om hur mycket pengar och horor man har. Som iofs i teorin är schysst, men samtidigt börjar bli en aning tröttsamt att lyssna på. Skaffa lite nya intressen liksom.
... låter Julia Luis Dreyfus (Elaine och Christine) gästa på en skit:
"I'm here on this mixtape to tell you that he's awesome. And don't you think that makes me the coolest person...ever? And don't you think my kids are gonna think I'm so cool I'm on this mixtape Motherfuckeeer!"
Ja. Det är fanimej coolt.
Det är också rätt roligt. T ex när Wale får ett telefonsamtal från ett storbolag som försöker få honom att sälja sig till "the hipsters, euuhm the hopsters?" Med att göra en "raverap"låt. "I gotta go" säger rapparen, märkbart grinig, och nästa låt är tapets tyngsta som inleds med "I'm just doin what I gotta do...". Wale rappar vidare om
Nike-boots
tillsammans med ovan nämnde Weezy.
Senare ber Wah-lejj om ursäkt för att varit så ful i munnen på ett tidigare tape och sagt "bitch" några gånger.
"There's two different kinda guys you can meet. Good guys who will call you a lady and women and even your real first name. And there's guys who will try to pull your hair and call you bitches and a hoe and all that. So you basically have the opportunity to choose one or the other so, - musiken slutar-

bitch

, pick the right motherfucker. huhuhuh... "

Wale - mixtape about nothing
Ta det.